Journey without End
わたしの、終わらない旅
Sakata Masako
Japan/78min./2014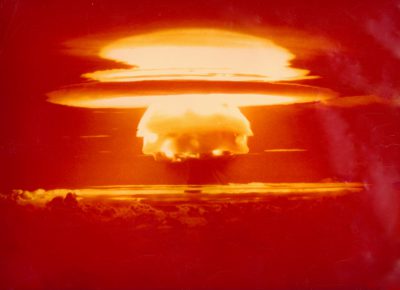 'Nuclear issue' is her next subject for director Sakata Masako, who revealed long-term effects caused by defoliant in her early films, "Agent Orange - a Personal Requiem"and "Living the Silent Spring".
Shocked by the reality brought about by the nuclear disaster at Fukushima Daiichi Power Plant, she came to realize the significance of an anti-nuclear campaign once more, in which her deceased mother had been engaged over ten years. She set out on a journey to investigate the history of nuclear power, which has been doubly exploited as a weapon and power resource.
She firstly visited her sister living in an island in France, located on the opposite side of the shore where a nuclear-reprocessing plant exists. She met people displaced from their home land Marshall Islands, where massive nuclear weapons tests repeatedly took place. She then flew to Kazakhstan to witness how local people live their lives on the land contaminated by nuclear tests during the USSR period.
Japan is a country having experienced nuclear disaster three times in the past: Hiroshima, Nagasaki and Daigo Fukuryu Maru incident. On the other hand, we've been promoting nuclear energy policy aiming at 'exploiting nuclear for the sake of peace'.
This documentary is the culmination of Sakata Masako's devoted study on nuclear issue with a collection of silent voices of the people whose lives were tossed about by atomic energy.
Title in English
Journey without End
Title in Original Language
わたしの、終わらない旅
Director(s)
Sakata Masako
Director's Bio/Filmography
Her husband's death in 2003 urged director Sakata Masako to make a film on defoliant. She interviewed defoliant victims, their families, Vietnam War veterans and scientists in Vietnam and U.S.
2007-8: She was invited to UC Berkeley Graduate School of Journalism as a visiting researcher.
2007: She completed "Agent Orange - a Personal Requiem". With this film she won Mainichi Documentary Award, Paris International Environmental Film Festival Special Award, Earth Vision Jury Prize and many others. It has been shown around Japan and the world.
2011: She made a sequel to "Agent Orange - a Personal Requiem", "Legacy of Agent Orange - Journey to Father's Battle Ground", which was broadcast by NHK and won Galaxy Award. She then made a new documentary "Living the Silent Spring" in summer 2011 and shown throughout Japan, including a screening held at Iwanami Hall in Tokyo.
2012: "Living the Silent Spring" won many awards including Japan Film Pen Club Award, Valenciennes International Film Festival Jury Prize and Audience's Prize, Aichi International Women's Film Festival Audience Prize, Earth Vision Children Film Prize and Agency for Cultural Affiars Merit Award.
Year of Completion
2014
Nationality of the Film
Japan
Running Time
78 min.
Aspect Ratio
Video: 16:9
Color
Color
Screening Format

BD

DVD

Shooting Locations
Shooting Dates/Periods
May 2011- December 2013
Names of Characters
Language of Commentary and Dialogue
Japanese,English,French,Russian,
Subtitles
Japanese,
Date of First Public Screening
2015/3/7
Place of First Public Screening (Country)
Japan
Date of First Public Screening in Japan
2015/3/7
Previous Screenings at Other Film Festivals and Events
Theater Pole Pole Higashi-nakano (Tokyo)
Staff Credits
Script: Sakata Masako
Photography: Sakata Masako
Editing: Oshige Yuji
Sound: Ogawa Takeshi
Music: Yanagida Koji
Narration: Sakata Masako

Producer
Sakata Masako
Distributor / Distribution Company
Official Website for the Film
http://www.cine.co.jp/owaranai_tabi/
Other Online Access to the film
Screenings at the Past YIDFF Programs and Events

None