GAIA SYMPHONY No.8
地球交響曲 第八番
Tatsumura Jin
Japan/115min./2015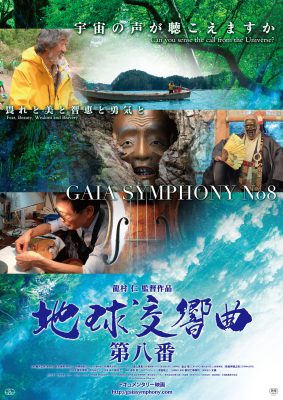 Four years have passed after the Great Tohoku Earthquake and Tsunami. What should the Japanese people be aware of and what should they do for achieving true rebirth and regeneration?
There are some Japanese who believe that "we must relearn the ability to listen to the voice of the tree spirit, in other words, the voice of the cosmos". "Gaia Symphony No. 8" will attempt to transmit to the world the thinking and activities of these people in hopes that all living things on earth will continue to live healthily.
1. Encountering the Tree Spirit
For the past 600 years, while waiting to once again see the light, the noh mask Akobu-jô has lain hidden away in the treasure house of the Tenkawa Dai-Benzenten Shrine deep in the mountains of Yoshino in Nara Prefecture. The ancient mask, which had once presented by the gifted noh actor and third Kanze school head, Motomasa, revived in this present world.
2. Listening to the Voice of the Tree Spirit
Japanese violin maker Muneyuki Nakazawa says, "The soul or the 'tree spirit' of the instrument has continued to remember the 'sound soul' of all the great performers who have played it over generations." Nakazawa crafted a "tsunami violin" made of the wooden rubbles of pine and maple trees, which had once been pillars and beams of houses but destroyed by 3.11 tsunami.
3. Growing Trees with Heart
Shigeatsu Hatakeyama began the movement to reforest Mt. Murone in 1989 after realizing the fact that the destruction of the forests turned the blue sea of Kesennuma Bay red. Thanks to his reforestation activity, Kesennuma Bay gradually became blue again. But the 3.11 tsunami hit there and Hatakeyama's oyster beds were completely destroyed. This part depicts the process of recovery of his soul and the sea.
Title in English
GAIA SYMPHONY No.8
Title in Original Language
地球交響曲 第八番
Director(s)
Tatsumura Jin
Director's Bio/Filmography
Tatsumura Jin
Born 1940 in Hyogo, Japan. He graduated from Kyoto University and entered NHK (Nihon Hoso Kyokai: Japan Broadcasting Corporation). He left NHK in 1974 and since then he has directed many documentaries, drama programs, and commercials as independent director.
1975: Awarded Galaxy Prize for "Dream Journey to the Silk Road"
1987: Receives ACC (Allied CM Council) Excellence Award for Saison Group three minutes CMs, "Lyall Watson" and "Michizo Noguchi"
1992: Started releasing Tatsumura's lifework "Gaia Symphony" series.
1994: Awarded Kyoto Cultural Prize for his contribution to the society by promoting harmony between science, heart, and nature through film
1995: Awarded Galaxy Promotion Prize for "A Gift from the Future - A Tale of Traveling this Planet" sponsored by NTT DATA Corporation
1996: Awarded Distinguished Service Prize in Kyoto Prefecture Cultural Awards
2000: Established Jin Tatsumura Office
2001: Directed "Gaia Symphony No.4"
2004: Directed "Gaia Symphony No.5"
2007: Directed "Gaia Symphony No.6"
2010: Directed "Gaia Symphony No.7"
2015: Directed "Gaia Symphony No.8"
Publications:
"Gaia no sasayaki"(Sogensha), ""Gaia Symphony No.3" Tamashii no tabi" (Sogensha), "Gaia no inori" (Kadokawa gakugei shuppan) and edited "Gaia Symphony no kiseki" (Jinbun shoin).
Year of Completion
2015
Nationality of the Film
Japan
Running Time
115 min.
Aspect Ratio
Video: 16:9
Color
Color
Screening Format

DCP

BD

DVD

Shooting Locations
Japan
Shooting Dates/Periods
June, 2013- March, 2014
Names of Characters
Umewaka Gensho, Nakazawa Muneyuki, Nakazawa Kimiko, Hatakeyama Shigeatsu, Hatakeyama Makoto, Kakisaka Mikinosuke, Miichi Yasuo
Language of Commentary and Dialogue
Japanese,
Subtitles
none,
Date of First Public Screening
2015/3/21
Place of First Public Screening (Country)
Japan
Date of First Public Screening in Japan
2015/3/21
Previous Screenings at Other Film Festivals and Events
Cinema Rise
Staff Credits
Photography: Akahira Tsutomu
Sound: Uwabo Yoshinori
Narration: Enoki Takaaki, Kiuchi Midori

Producer
Jin Tatsumura Office
Distributor / Distribution Company
Jin Tatsumura Office
Official Website for the Film
http://gaiasymphony.com
Other Online Access to the film
Screenings at the Past YIDFF Programs and Events

None